As a homeowner that needs to use multiple appliances at once, you may consider using a power strip. A power strip refers to a device that offers you additional sockets where you can use to connect different electrical devices, including your television, phone charges, lamps, and more.
Typically, they are available in a rectangular shape and feature a lengthy cord. Power strips are extremely useful for running multiple devices simultaneously or charging devices without disconnecting the other. Some modern power strips come with available USB ports that are ideal for charging your tablets and mobile phones.
How Does a Power Strip Work?
A power strip is a handy device designed to let you access multiple outlets plug in a single electric socket. In most cases, once you plug a standard power strip, all of the available outlets it contains will turn on. This will allow you to deliver electricity to your preferred home appliances at once.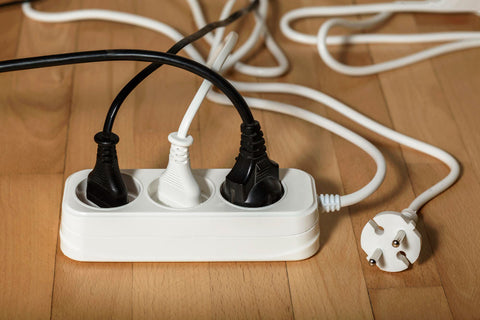 Using a power strip is also ideal for keeping your office or room clutter-free. This is because you don't need to add several extension cords in one area to accommodate your needs. Since a power strip allows you to use different power devices, this is ideal for industrial and residential applications where electric tools and equipment need to function simultaneously.
A power strip with individual switches allows you to turn on and off a device when fully charged or not in use without affecting the other appliances plugged. Aside from that, modern power strips are also equipped with safety features that will keep the system from overheating or overloading. Thus, they become a great choice than extension cords by many homeowners.
Other models of power strips include providing your devices with surge protectors. Surge protection is ideal for powering high-voltage appliances to keep them damage-free when a sudden noise spike or electric surge happens. Aside from that, some types of power strips can also automatically turn off the switches when sensed that the gadget is fully charged or not in use. This will avoid the risk of fire hazards.
The main function of power to multiple devices from one wall outlet effectively and safely. Individual switches of outlets play a great role in this function. When one of the devices is plugged into a power strip with individual switches, the device will automatically turn on to deliver the power wattage it demands.
What is the Benefit of Using Power Strips with Individual Switches?
A standard power strip is not usually equipped with individual switches. This is because they are designed to power up different devices at the same time. But what if you need to turn off your refrigerator without actually plugging it out?
Fortunately, you can find modern power strips with individual switches in the market. The individual switches enable you to turn the electricity on or off. This is an efficient way to conserve energy. Aside from that, it also prevents damages to appliances when a sudden on and off of electric power happens.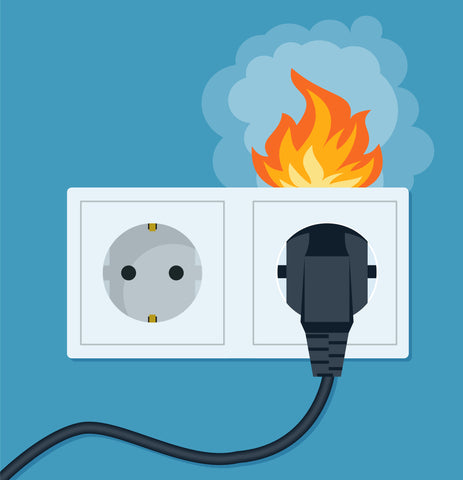 When you turn on a power strip, its individual switches will allow you to turn on and off one of the plugged devices. This might not be a basic feature, but it could help you a lot, especially if you forgot to turn off your devices.
What Will Happen If You Leave The Power Strip On For A Long Time?
Power strips usually come with different electric outlets. This is a convenient way to save more space from charging devices at once. But using a power strip improperly has a few different associated strips.
To ensure your safety, you must turn off the power strip from the socket once you are done charging your devices. If you forgot to plug the power strip out from the socket, it could cause damages, not only to the strip itself but also to the appliances plugged in it.
Different hazards are associated with leaving a power strip for several hours. Take note that an unplugged power strip can still generate power. This may result in draining your device's battery. Thus, it may need a quick fix or quick replacement.
On the other hand, leaving a power strip plugged could also result in a fire hazard, especially if it is connected to highly-flammable materials. This could also result in overheating, which can cause dangerous fire when neglected.
Best Power Strips with Individual Switches
The market is filled with various power strips with individual switches. With this overwhelming number, you may find it hard to select the best power strips that can meet your needs.
The following are the ideal and high-quality power strips with individual switches manufactured by RocketSocket. RocketSocket is a well-known company in North America that produces excellent electrical tools. Thus, you can rest assured that the following power switches are made with top-grade materials and deliver efficient performance.
CRST 6-Outlets 6 ft. Heavy-Duty Surge Protector Power Strip 15A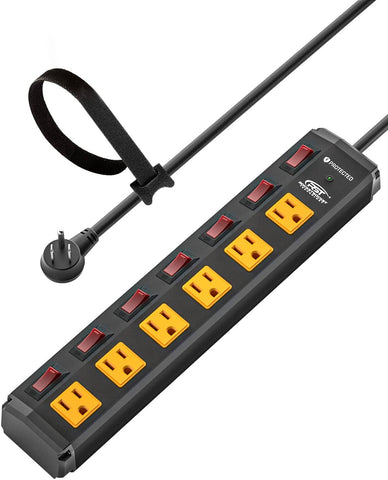 This 6-outlet power switch has individual illuminated switches that will help you save money and power. This is because its individual switches are designed to let you switch off your plugged device independently.
CRST 6-Outlets 6 ft. Heavy Duty Power Strip 15A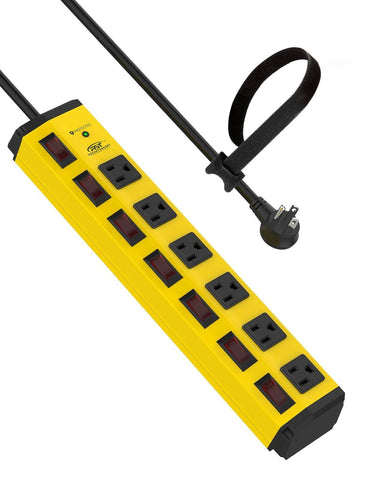 Another power strip with 6 outlets and individual switches from Rocket Socket is this CRST 6-Outlets 6 ft. Heavy Duty Power Strip 15A. Aside from its illuminated switches, this one has a durable and thick aluminum housing. Beyond that, it also comes with plastic covers that protect its cord against damages from regular use.
CRST 12-Outlets 9 ft. Heavy-Duty Surge Protector Power Strip 15A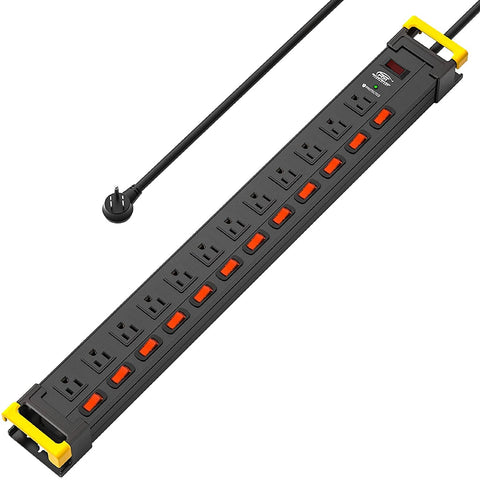 If you are looking for a power strip with 12 outlets and individual switches, you will never go wrong with this CRST 12-Outlets 9 ft. Heavy-Duty Surge Protector Power Strip 15A. Although this is the most expensive among the three, it is worth investing in because it provides endless benefits.
Summary
Power strips with individual switches are more beneficial than standard power strips. Thus, if you want to achieve a safer and more efficient power strip with switches, we highly recommend you to shop at crsttech.com.